Key Features
Rapid drug delivery: Aerosolized particles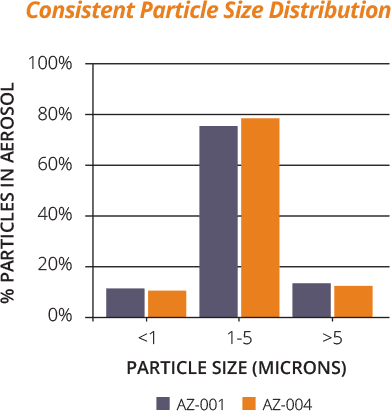 The Staccato OBT system generates optimally sized aerosolized drug particles with consistent particle size distribution. Rapid vaporization of a pure drug film (rather than mechanically generating aerosols or utilizing preformed particles) enables consistent generation of particles averaging 1–5 microns in size, optimal for deep lung inhalation.
Rapid onset and pharmacology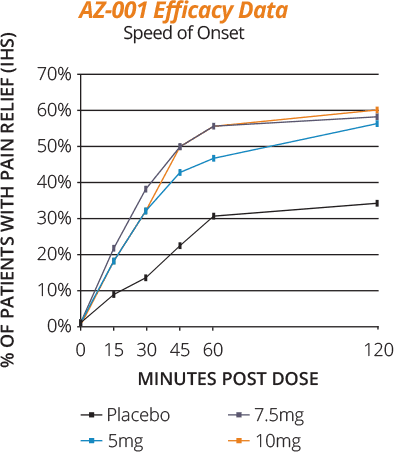 The aerosol produced with the Staccato OBT system is designed to be absorbed rapidly through the deep lung. Speed of therapeutic onset is comparable (almost identical) to IV administration, generally achieving peak plasma levels of drug in 2 to 5 minutes.
Onset of action is more rapid compared to other drug delivery methods such as oral tablets, fast-dissolve tablets, sublingual films, and intramuscular and subcutaneous injections.
Our commercial product ADASUVE (loxapine) inhalation powder (ADASUVE.com) and drug product candidates in our pipeline have demonstrated statistically significant onset of therapeutic effect within 10 minutes.
Ease of use: Single breath activation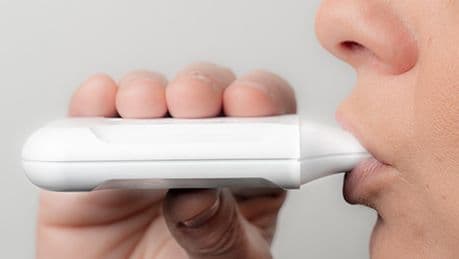 To use Staccato OBT, a patient simply places the device to their lips and inhales (there is no waiting or prep time). The Staccato device is breath actuated. Unlike many other inhalation technologies, the patient does not need to coordinate inhalation with other actions, and the patient does not need to learn a special breathing pattern. The Staccato OBT system delivers a consistent dose across a wide range of inhalation styles.
Thermal aerosol
Rapid heating of a thin film of excipient-free drug creates a drug aerosol without thermal degradation. In less than half a second, the drug is heated to a temperature sufficient to convert the solid drug film into a vapor. Because the duration of drug heating is so brief, thermal decomposition is minimal. After vaporization, the drug cools rapidly in air, condensing into pure drug aerosol particles of near ambient temperature.
Applicability
The Staccato OBT system delivers pure (unformulated) drug, which reduces development time as formulation development is not required. In addition to delivering aerosol from a single active compound, the Staccato technology can also be used for delivery of a combination of different actives in a single breath. A large number of molecules have demonstrated technical feasibility with Staccato technology.